Our five wonderful veterinarians help to make Alpine Veterinary Hospital a perfect blend of "experienced wisdom" and "new passion". They come from a variety of backgrounds and each have different skills and interests while also fulfilling the role as one of the ever-decreasing population as truly mixed animal, all species veterinarians! Our remarkable technicians help handle the animals in a professional and safe manner, and aid the veterinarians in all things technical: surgical anesthesia, wound prep, intubation and catheterization, inpatient nursing, laboratory sample prep and interpretation, exam room assistance, record keeping, and much much more. Our receptionists are our center stage stars: they efficiently organize and set the schedule, happily greet clients and patients alike, answer all calls, process payments, input records, and keep the clinics running like well-oiled machines. Our wonderful cleaners are who keep the clinics looking, feeling, and smelling amazing (which is no easy task in veterinary medicine)! Our practice is blessed beyond words to have such a wonderful staff. Read on for more interesting facts!
Alpine's Veterinarians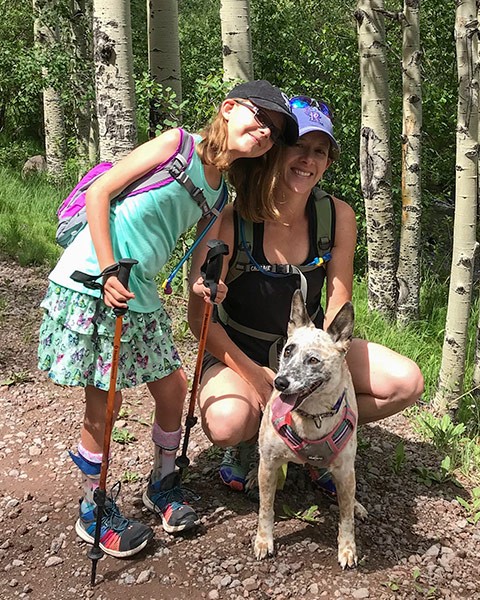 Dr. Carla Enderle, DVM
Carla Enderle was born and raised in northern New Mexico on her families two ranches one raising cattle and the other sheep which later converted to a cow/calf operation while she was in College. She earned her Bachelor of Science Degree, Cumae Sum Luda, in Biology at Adams State College in 2002. Carla went on to earn her Doctorate of Veterinary Medicine from Colorado State University in 2006.
Since graduating Dr. Enderle has practiced at Alpine Veterinary Hospital in Alamosa and Monte Vista, and became a partner/owner in 2019. With her history in ranching she has a passion for all animals and enjoys the daily variety of working in a mixed animal practice. Dr. Enderle enjoys performing all types of surgeries, small animal reproduction, and working up difficult medical cases.
Dr. Enderle believes that the practice, like ranching, is a family affair and usually you can find one of her three children Jon, Evan, and Addison or her husband DJ helping out around the clinic. Her family still runs the two ranches in New Mexico, and Carla goes down and helps when time allows.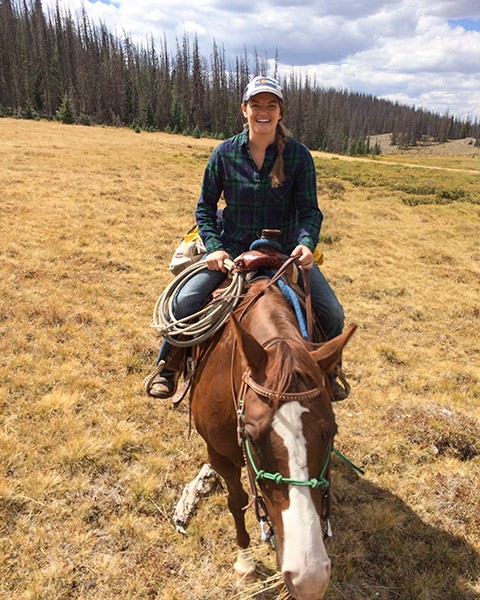 Dr. Kayla Henderson
Dr. Kayla Henderson is a San Luis Valley native and third generation cow calf rancher. She earned her bachelor's degree in equine science and business administration, with honors, magna cum laude from Colorado State University in 2008, followed by her DVM, with honors, cum laude in 2012. She volunteered at Alpine Vet Hospital as a teenager, and then became an associate veterinarian in 2012, and finally an owner/partner in 2019. She loves every aspect of rural mixed animal practice and is a passionate advocate for the profession and lifestyle at the state and national levels. Dr. Henderson is the SLV Chapter Rep for Colorado's Veterinary Medical Association and serves as a member or committee chair on several local and state boards. She enjoys equine medicine and lameness, herd health care, general small animal practice, and teaching and mentorship.
She and her husband and their three kids live on a cow calf ranch in the middle of the SLV. She loves horseback riding, gardening, baking, spending time in the mountains, working cattle, reading, and tending her kiddos, cats, and chickens (often at the same time)!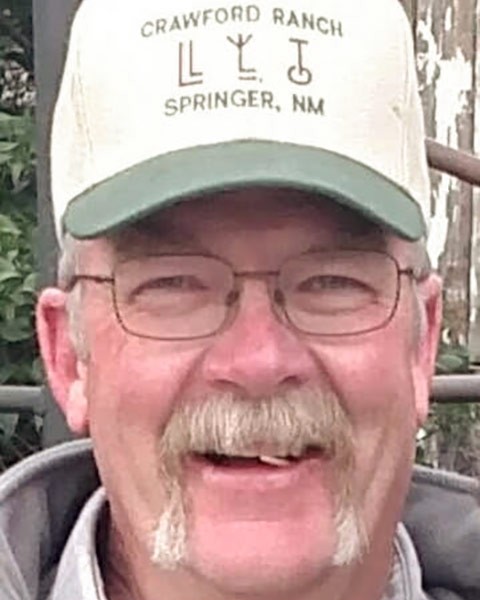 Dr. Curtis Crawford
I was raised on a small farm and ranch in Northeastern New Mexico. After attending undergraduate college at New Mexico State University where I met and married my wife Denise, I graduated from Colorado State University with a DVM in 1986. I then practiced for 4 years in a mixed animal practice in Las Cruces, NM, and 7 years in Pueblo, CO before coming to the San Luis Valley in 1997.
I have been an active member of the Colorado Veterinary Medical Association for over 25 years and was elected to the CVMA Board of Directors including a year as President, and am currently the Colorado Alternate Delegate to the American Veterinary Medical Association. I have been the CVMA representative to the Colorado Livestock Care Coalition that advises the Colorado Commissioner of Agriculture on livestock care and welfare issues. I also serve on the Monte Vista Community Ambulance Service Board of Directors and as an elder for the Cornerstone Church of Christ in Monte Vista. I am on the Scientific Review Committee for the San Luis Valley Regional Science Fair.
Although I will always be a general practitioner, my medical interests lie in beef cattle, sheep and goats, and small animal orthopedics. Our practice has recently started using interlocking nails for long bone fractures in addition to the regular pins, wires and external skeletal fixation devices we have always had. I perform laparoscopic AI for sheep and goats and am pursuing bringing PAP testing capabilities to the practice.
Denise and I have two married children who both live in the San Luis Valley and work within the agricultural community. My brother still runs the family farm and ranch in New Mexico. We keep a few Boer goats around our place for entertainment and to keep the county weed board happy.
Dr. Kayla Bentley
Dr. Kayla Bentley has been an associate veterinarian with Alpine Veterinary Hospital since 2018 after receiving her doctorate in veterinary medicine from Texas A&M University. Her professional interests include ultrasonography, soft tissue surgery, and preventative medicine and she enjoys working on all species. Born and raised in Tyler, Texas, she has always had a love for the Colorado mountains. She and her husband have quickly come to the love the San Luis Valley with its rich sense of community and unique landscape. Her hobbies include all things outdoors such as hiking, fishing and hunting. She enjoys spending time with her 3 dogs and tending to her flock of chickens.
Dr. Tyler Ratzlaff
Dr. Ratzlaff and his wife Bonnie were at the helm of AVH for 30 years, expanding it to a five-veterinarian staff and purchasing the well-established Valley Veterinary Clinic in Alamosa from Dr. Bob Steffens in 2012. In 2016, they built a brand new, state of the art facility on that property, fulfilling a lifelong dream.
Dr. Ratzlaff decided the time was right in 2019 to pass the practice ownership to the next generation, so he could focus solely on practicing medicine and spending time with his family.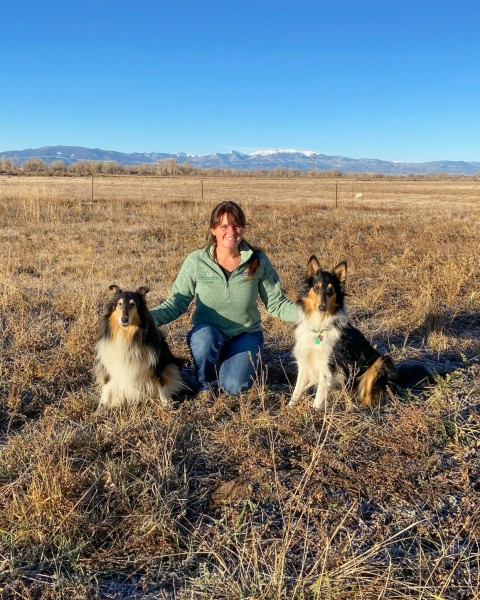 Dr. Alex Baker DVM cVMA
Dr. Alex Baker was born and raised in a small rural community in northern California. Alex participated in 4H and FFA throughout her childhood where she raised and exhibited beef cattle, dogs, chickens and guinea pigs. Alex received her bachelor's degree in animal science from UC Davis in 2014 and went on to work for a nonprofit organization where she spent most of the next three years living and working in various villages in Uganda. Alex taught local health teams, district veterinarians along with U.S. and Ugandan veterinary students skills relating to infectious disease control between humans and livestock. Alex recently received her DVM from Colorado State University and is excited to become a member of the SLV community. In addition to completing her veterinary degree; Alex completed her acupuncture certification in both small and large animals and she is excited to bring this treatment modality to AVH. Dr. Baker enjoys working on all animals and is especially interested in complementary medicine, rehabilitation and PAP testing. In her spare time Alex enjoys hiking, camping and fishing with her fiancé and their two Rough Collies, Lacey and Delta.
Alpine's Staff
Starr Hanel
Practice Business Manager
Alice Nye
Alice has been a part of the AVH team since 2015. She is a Level 2 Certified Veterinary Assistant and the head technician in Monte Vista. She has a strong passion for a stress-free and comforting environment for her furry patients of all shapes and sizes. She also enjoys providing client education to help owners who love their pets as much as she loves her own. In her free time, she can be found adventuring and hiking with her husband and three blue heelers, Trouble, Kiba, and Midna.
Amy Cochran
Amy hails from the great cheese state of Wisconsin, and yes, she does love the Packers! She received her Bachelor's degrees in Education and History from Missouri Valley College, where she also participated in College Rodeo for 4 years. After college, she traveled the world for half a decade before being roped into the Valley by her husband of 2 years, Chad. She has worked for Alpine for almost 4 years and she loves being able to help clients and patients feel welcomed in every situation. She is a level 1 Certified Veterinary Assistant working towards further education in this area, and has recently taken up the enormous duties of Inventory Manager for the practice. She can't wait to meet you and your furry family!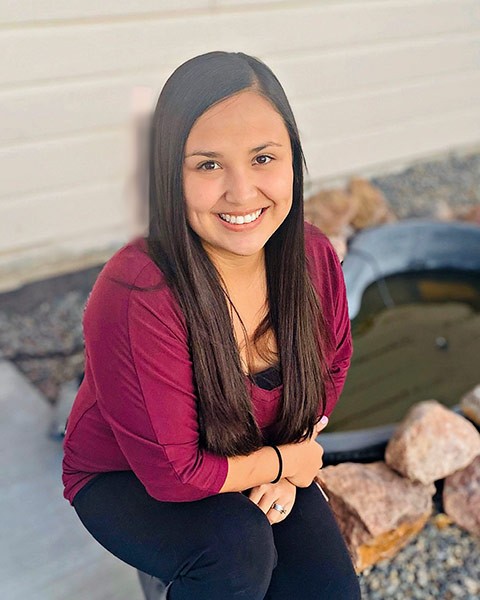 Brittney Abeyta
Brittney was born and raised in Alamosa and has been a veterinary technician for AVH since 2012. She attended Pima Medical Institute in Albuquerque, NM and graduated in 2011. She has always had a strong passion for animals and always knew that she would want to work with them from a young age. She married her wonderful husband Michael in 2014 and was blessed with a step-daughter Mikayla and two babies of her own, Myla and Makai. They have two fur babies as well; a cat named Zoey and a Shih Tzu named Rex. She loves spending her free time with her family and loves being a mom most of all!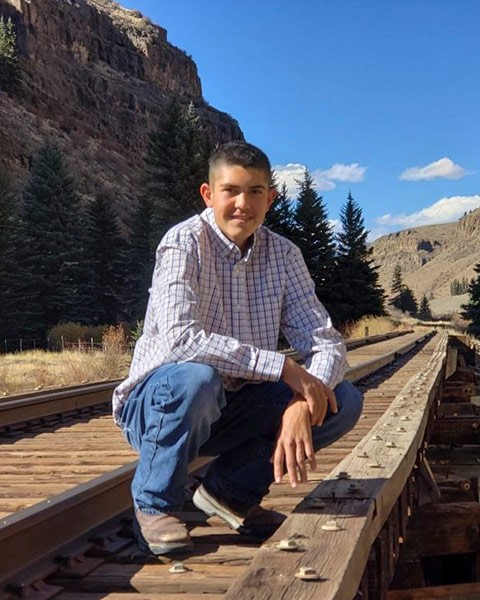 Daniel Miller, Jr.
Daniel joined AVH as a work-study student in high school and quickly became invaluable to the practice. He is working part time in between attending Adams State University as a full time pre-veterinary science major. He is looking to graduate from college with a degree in Animal Science, attend veterinary school, and come back to work in the SLV as a veterinarian.
Jenna Reddin
Jenna was raised in Austin, TX. Even as a child, she had a passion and love for animals and their well-being. She grew up with all kinds of dogs, cats, horses, and birds. As a kid and teenager, she showed a Welsh pony and Quarter Horse in the hunter jumper circuit. She spent her summers working in Creede, CO where she met her husband, and it wasn't long before they decided to set roots in Monte Vista. They have one son, who they are raising on a small farm. They raise cattle, chickens, rabbits, and Labrador Retrievers. She enjoys taking the dogs on hikes all around the Valley, and definitely loves being out in nature with her kid and furkids!
Kevin Garcia
Kevin was born and raised in Center, CO and attended Fort Lewis college on a football scholarship. He began working for AVH in 2012 as a technician and has since become the familiar face as a receptionist in our Monte Vista hospital, teasing, laughing with, and comforting clients on a day-to-day basis. He and his wife Kathy enjoy hunting, archery in particular, and compete successfully at bow shoots around the state. They have a giant Rottweiler and a one-eyed hilarious French bulldog.
Rachel Valdez
Rachel joined the Alpine Veterinary Clinic team back in 2017. She graduated from Colorado State University with a Bachelor's Degree in Animal Sciences and a minor in Agricultural Resource and Economics. She continued her schooling at Adams State University to earn a Master's Degree in Business Administration in 2019. She is currently in the process of applying to veterinary school to pursue large animal medicine.
This profession has served as an outlet for her lifelong love for animals and her interest in medical sciences. Rachel's passions include fitness, working with her horses, helping run the family alfalfa/grass farm and growing their bison operation. She shares her time with family, fiancé Brady and friends.
Vernon Maes
Vern was born and raised in the SLV and is a veteran of the US Navy. He began working at AVH as a receptionist in 2016 and has since become one of the senior technicians in Alamosa. He and his wife Machelle have two kids and three grandkids. Vern is the bright spot in everyone's day and brings compassion, humor, and unbelievable care to each and every patient and client interaction. He loves English bulldogs, pranks and memes, and spending time with his family (especially the grandkids)!
Heidi King
Heidi is an SLV native who began working for AVH in 2017 and has since become a technician in Alamosa. She loves all animals and her infectious laugh can be heard throughout the clinic. She is caring, kind, and highly entertaining and is much loved by patients, co-workers, and clients alike.
Debbie Harris
I was born in Monte Vista, and have lived here most of my life. I have worked at Alpine Veterinary Hospital twice before for a total of thirteen or so years. I have two sons from my first marriage and when I married Mr. Harris he let me share his two sons as well. Between us we have six grandkids so be careful where the conversation goes, I am a quick draw with their pictures. Charlie and I have five dogs and two cats. Brat and Bob keep the mouse population down while Lucy and Ethel, the chihuahuas make sure the big dogs are not having too much fun. George, Max and Budreaux keep the dust from settling in the back yard. I love to explore our beautiful mountains whenever I get the chance and I tend to spend the bulk of my summer evenings in the garden. After a year and a half away I am excited to get back to Alpine. I loved the veterinary world from the start. Getting to know people and their animals help make my family feel even bigger.
Jose
I found Alpine as a high school student, during a summer camp exploring health careers, which solidified my love for veterinary medicine. From there I continued to volunteer and ultimately joined the team as a veterinary technician. Since joining AVH I have graduated and received my bachelor's degree in Cellular and Molecular Biology from Adams State University. I am currently a student at Michigan State University's College of Veterinary Medicine, pursuing my lifelong dream of becoming a veterinarian; at which point I plan on returning to the valley to pursue a career in mixed animal medicine. I enjoy the aspect of working with a large variety of species and have a special interest in reproduction, soft tissue surgery, and small ruminant medicine. Outside of veterinary medicine I enjoy raising Boer goats, enjoying time with family and my Bull Terrier, Nala, as well as enjoying Colorado's great outdoors.
KaCee Rogers
I grew up In Olathe, Co where my love for animals started with a shelter dog named Katie, whom I had for 14 years. I moved to the valley from Montrose, Co to be with my husband Randy and my bonus son Kolten. A year and a half later we welcomed our newest son Haizen into the family. I have a dog, Sadie who we adopted 2 years ago, she is my sons best friend. I have 2 cats, Jersey and Lucky. I have a mini bull names Circus Bear, he is the most calm and kind bull you'll ever meet! My boys are my whole world, I can't imagine my life any other way!
Beth Cerny Tooker
Hi! My name is Beth Cerny Tooker. I moved back to the Valley and joined Alpine Vet Hospital in November 2019. Previously having worked at a small animal clinic in Pueblo, large animals have been a learning experience! Animals are my passion, almost as much as my 6 children and 10 grand babies. My fur-babies include Gizmo, my yorkie, and Tucker, my naughty mini-Aussie.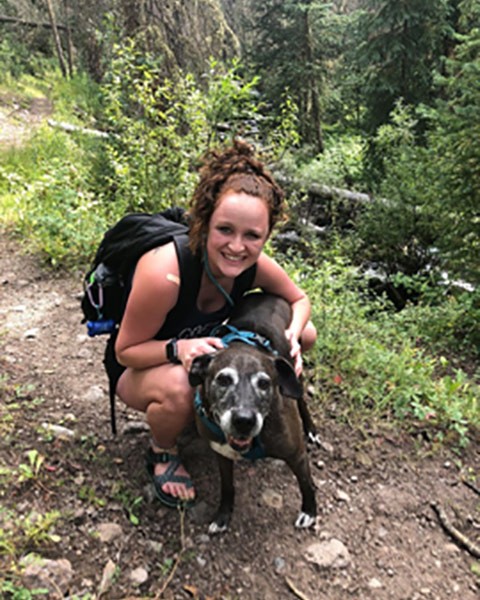 Isabelle Freedle
Izzy was a technician for a few years before joining us at AVH in the fall of 2019. She enjoys riding horses, hiking, and reading.
Machelle Maes
Miss Kitty
Dr. Bob Steffens saved Miss Kitty as a kitten from the jaws of a swather. She had managed to fracture both hind limbs, one of which he saved, the other of which she lost. Her gorgeous siamese tabby facade and creative three-legged gait cover the personality of a 50 year old lady- sometimes affectionate, usually well put-together, occasionally impatient and gruff, and always always the supreme confident grand dame of the Alamosa hospital.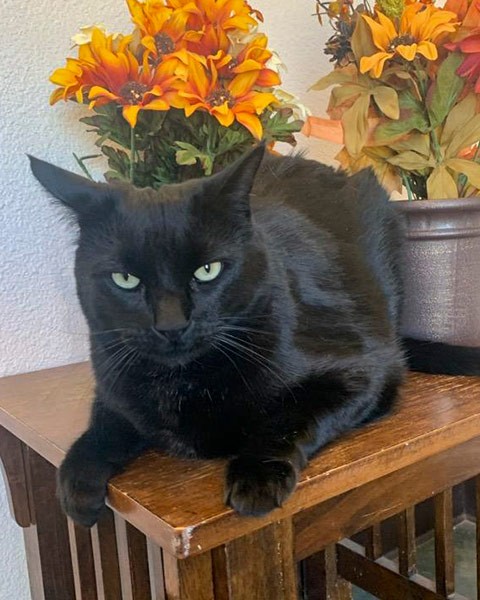 Binx
When a box with a tiny innocent black kitten was left outside the old Alamosa hospital's door one cold and blustery night in October of 2014, none of us could dare imagine that he would live anywhere but with us forever. Then the tiny innocent kitten, opportunistically named Binx, grew up. And up. Until he was a gargantuan 18 pound panther who now terrorizes the security cameras, slinks around the lobby counters with an intimidating Amazonian stare, spills several drinks every day, tears open and enjoys the spoils of multiple expensive prescription food bags, and continues to charm and earn love from every one of us, even Miss Kitty.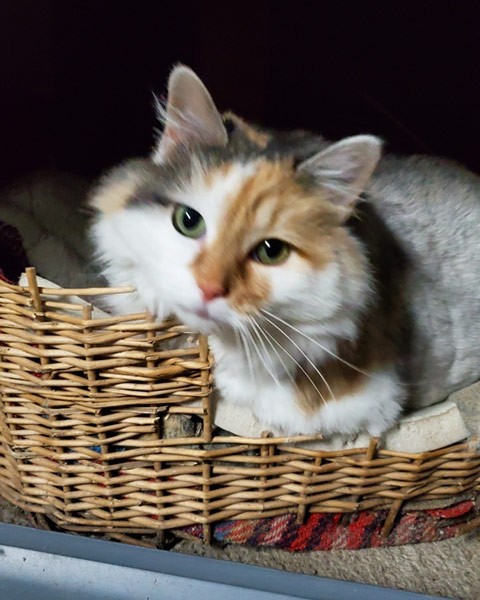 8 Mile
If you're ever in the barn at the Monte Vista hospital, you'll definitely catch a glimpse of the most voluptuous cat to ever grace the earth. 8 Mile was discovered by Bonnie on the side of a road...the er…8 South to be exact, and has made her home viciously killing mice (although no one knows exactly HOW she pulls off this feat), intimidating dogs, and wrapping herself helpfully around horse patient's legs in the MV barn. Multiple times a day, folks ask if she's pregnant. The answer nowadays is a shamefaced, mumbled…."No, that's just her figure." Feel free to snuggle and cuddle her- she adores attention!
Jessica King
Receptionist
Brittany Lopez
Receptionist
Michael Pacheco
Michael was born and raised in Monte Vista, CO. He is married and together they have five children, three dogs, and one cat. He enjoys spending time outdoors and traveling. He has worked with AVH since 2003, working his way to becoming the most valuable technician and all-around go-to handy-man and veterinary fabricator. He likes working iwth large and small animals and being involved in the orthopedic exams and surgeries.
Heidi King
Heidi is an SLV native who began working for AVH in 2017 and has since become a technician in Alamosa. She loves all animals and her infectious laugh can be heard throughout the clinic. She is caring, kind, and highly entertaining and is much loved by patients, co-workers, and clients alike.